Now that the Medicare Annual Enrollment Period (AEP) is upon us, the Minnesota Benefit Association wants to ensure that you are prepared for potential changes to you coverage. Medicare Cost plans are ending in 66 of our 87 counties in 2019 (see Map). This means around 370,000 Minnesotans need to select a new Medicare plan this Fall.
Medicare is health insurance coverage for people over 65 and certain people under 65 with disabilities or End-Stage Renal Disease (ESRD).
Contact our Medicare help line with all Medicare questions, or for information on our in-person meetings, please call 651-259-9000 or send an inquiry to Medicare@LeClairGroup.com for details.
Currently, there are 3 Cost Plans in Minnesota: Blue Cross Blue Shield (Platinum Blue), HealthPartners (Freedom), and Medica (Prime Solution), these plans are still available in the following counties.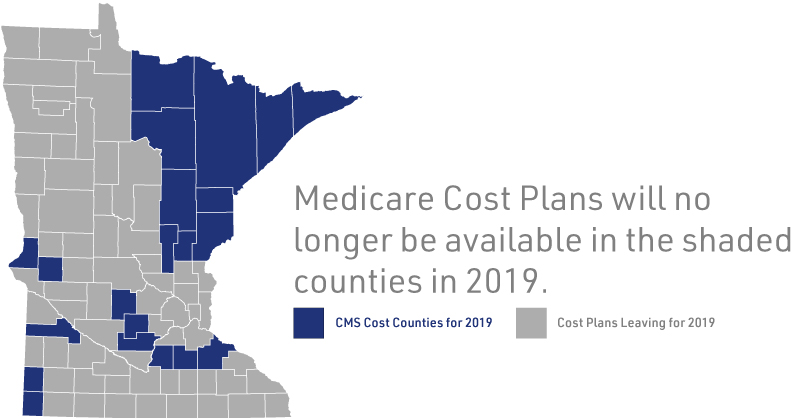 Cost Plans Leaving for 2019
Anoka
Becker
Beltrami
Benton
Big Stone
Blue Earth
Brown
Carver
Chippewa
Chisago
Clay
Clearwater
Cook
Cottonwood
Crow Wing
Dakota
Dodge
Douglas
Faribault
Fillmore
Freeborn
Grant
Hennepin
Houston
Hubbard
Isanti
Jackson
Kandiyohi
Kittson
Lac Qui Parle
Lake Of The Woods
Lincoln
Lyon
Mahnomen
Marshall
Martin
Morrison
Mower
Murray
Nicollet
Nobles
Norman
Olmsted
Otter Tail
Pennington
Polk
Pope
Ramsey
Red Lake
Redwood
Renville
Roseau
Scott
Sherburne
Stearns
Steele
Swift
Todd
Wabasha
Wadena
Waseca
Washington
Watonwan
Wilkin
Winona
Wright
CMS Cost Counties for 2019
Aitkin
Carlton
Cook
Goodhue
Itasca
Kanabec
Koochiching
Lake
Le Sueur
McLeod
Meeker
Mille Lacs
Pine
Pipestone
Rice
Rock
Sibley
Stevens
St. Louis
Traverse
Yellow Medicine
Members with plans ending need to make a change for 2019 coverage. If you are unsure what insurance plan you or your family member have. They can contact their carrier directly or call our team to find out.
What can you do? New Plan options have been released by insurance carriers and you can sign up for new coverage this Fall. Nearly half of the Minnesotans losing their plan will be automatically enrolled into new plans with their existing health insurance company, the remainder will need to sign up for new coverage.
The Medicare Annual Enrollment period runs from October 15 thru December 7, this is when anyone on Medicare can make changes to their coverage. For everyone losing their Cost Plan there is an extension until February 28 to enroll in a new plan; however existing plans finish on December 31 and you need to enroll by then to have new coverage beginning on January 1.
For more information on Medicare and your options download our Medicare for Minnesotan's brochure.
Call our team on 651-358-2990 or email Medicare@LeClairGroup.com with your Medicare questions.
---
Minnesota Benefit Association serving those who serve Minnesota since 1929.
LeClair Group, the administrator for the MBA's health benefits, has licensed Medicare advisors ready to support your community's needs. Their knowledgeable staff is dedicated to ensuring Minnesotans get the information they need to make good choices regarding Medicare coverage.